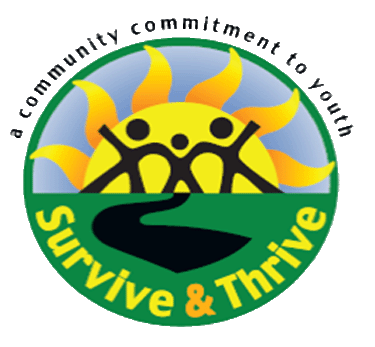 A special announcement from Nikki Fangman of Mebs & Associates, a long-time partner in mental health services for Mentoring Plus teens. She is also the Executive Director of local charity Survive and Thrive, a collaboration of professionals in the Northern Kentucky area committed to the enhancement of children's lives.
Please join us in an adult evening to support Survive and Thrive
Saturday, March 4th , 2017
7:00 p.m. to 11:00 p.m.
Holy Spirit Parish Center
9th and Saratoga, Newport, KY 41071
$15 per person for advanced sales, or $20 at the door
Spaghetti and Meatballs Dinner catered by Pompilios
Basket Raffle
Small additional charge for Beer
Featured Entertainment:
Ben Walz
Please RSVP to nikki.fan[email protected] if you plan to attend!! We hope to see you there!
---
More About Survive and Thrive:
In 2005, the founding members of this non-profit foundation were seeking to provide a summer program for children and teens in need of more intensive summer services.
Mission Statement
To empower children and teens to gain independence, coping skills, motivation and self-esteem. We serve the most high need children who have been and/or are unable to attend other summer programming due to the intensive nature of their needs (both emotionally and behaviorally)
Summer Program
The foundation's primary focus is to provide a 3 week summer program for children between the ages of 5 and 17. It is designed around the idea that some children require skills to "survive and thrive" in life. These skills could range from basic coping skills to independent living skills. The method in which these skills are learned is accomplished through the combined use of individual and group therapy, recreational activities, guest speakers, community outings, daily organized fitness opportunities, consistent behavior modification, and measureable goals for each child. Topics of group discussions and themes that run throughout the program include social skills/manners, developing and maintaining relationships, identity, responsibility, respect, boundaries/structure, nutrition and health, career development, bullying, stranger/internet safety, independent living skills, and drug and alcohol education.
Referrals are welcome from various community sources including parents/caregivers, schools, doctors, therapists, case management programs, the court system, and others.
The children are divided into age/developmentally appropriate teams with a ratio of 1 staff to every 4 children.
A structured behavioral system is implemented throughout the program to enhance motivation and offer earned rewards on a daily and weekly basis.
Positive results have been indicated every year from the children and families, based on measures that are given to the children and caregivers pre and post camp to determine needs and success (surveys, etc.).
Follow Up Services
Currently the program offers at least one follow up outing during the year as well as quarterly contact with the children/families. This contact may include follow up calls/email, home visits, community outings, crisis intervention, attendance at school meetings, collaboration with other involved professionals, etc.
Board Members: Kelly Clasgens, Ginger Peppers, Merrick Krey, Alex Bramel
Executive Director: Nikki Fangman
---
https://mentoringplus.org/wp-content/uploads/2017/03/Untitled-1.gif
347
375
randerson
https://mentoringplus.org/wp-content/uploads/2020/12/MPlusLogo-White720x88-300x37.png
randerson
2017-03-02 16:59:05
2017-04-09 13:10:47
Special Event Announcement