Get acquainted with new Executive Director, Chris Saunders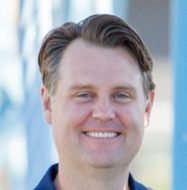 As the newest member of the Mentoring Plus family, Mr. Saunders is very much at home already. This comes as no surprise, since he has long been in the service of disadvantaged youth in our area – and his leap of faith into leading Mentoring Plus has been in the making from the days of his own youth.
His time as a student at Northern Kentucky University produced a passion for helping others in need, so Chris devoted his studies to social work and public administration. In short order, Chris delved into the world of youth mentoring, and became a volunteer with the renowned Big Brothers and Big Sisters of Greater Cincinnati. Mentoring was a natural vehicle for his service-centered passions, and he witnessed firsthand the positive influence that he and countless other volunteers were able to provide for local youth.
Upon graduating, Chris took another leap – not only continuing as a mentor with BBBS, but also accepting a position as a Case Manager. It was there that his leadership in the mentoring world began; he implemented the mentoring program, and paired countless volunteers and children, with the singular focus of helping others achieve the same positive influence he had experienced in his own mentoring service.
His next leap found him landing just next door in Dayton Independent Schools, where he spent ten years as Program Director of 21st Century programming. Chris led his team in a tireless labor of love, striving to meet the needs of Dayton's neediest students and families. Centered around academics, community development and social development, his program reached more than 35 percent of the student population; educators reported significant improvements in leadership, attendance and classroom behavior.
Chris is excited to now find himself at Mentoring Plus, the culmination of his local journey through youth mentoring and social services. And we are excited to see how his wide-ranging experience and passion will lead Mentoring Plus into our next big leap. Part of what Chris likes so much about this new "home" is not just the shared vision of helping children and parents, but that it's also, unabashedly, a family. Chris' family – his wife Erin, and children Sara and Ben (and their dog Duke) – have quickly welcomed these strange new extended family members from Mentoring Plus. His daughter Sarah recently remarked, with the unvarnished honesty of the very young, "Dad, you're like the principal and have the coolest job in the world." (She is also advocating for her father to spend less time on papers and more time using the basketball court at his office – we shall see if she makes any progress on this front.) And while he may not be a "principal" per se, she has the key kernel of truth down flat. Chris' foundation of service to others will no doubt help all of us continue the mission of guiding kids, supporting families and strengthening the community. He lives by a family truth instilled long ago, that of the golden rule – do to others as you would have them do to you. So we happily anticipate seeing what lies ahead.
https://mentoringplus.org/wp-content/uploads/2017/09/saundersID-e1505347525860.jpg
224
220
Mentoring Plus Staff
https://mentoringplus.org/wp-content/uploads/2020/12/MPlusLogo-White720x88-300x37.png
Mentoring Plus Staff
2017-09-11 20:26:26
2017-09-14 00:05:40
Local Guy Takes Leap of Faith