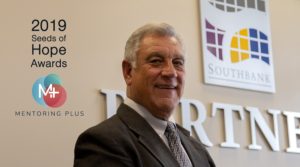 Get To Know Jack Moreland
The 2019 Seeds of Hope Award Recipient
Jack Moreland serves as president of both Southbank Partners and the Newport Southbank Bridge Company, where he is responsible for leading day-to-day operations of the two organizations.
Southbank Partners is a community and economic development organization that promotes and manages economic development and infrastructure improvement projects in the Northern Kentucky's six Ohio River cities. The bridge company is a private 501(c)(3) nonprofit organization that operates and maintains the Purple People Bridge, the pedestrian-only bridge that connects Newport and Cincinnati over the Ohio River.
Prior to his work with Southbank Partners, Moreland was one of Kentucky's most distinguished and recognized leaders in public education, a proven and successful administrator known for his ability to manage and direct complex organizations. During his career, he served as a public high school teacher, principal, and superintendent; state university president; and top Kentucky education official who helped to merge the state's community colleges into the system that is now known as the Kentucky Community and Technical College System (KCTCS) and ran the system once it was established.
Moreland was raised on a Bracken County tobacco farm. He began his career as a science teacher at Dayton (Kentucky) High School, where he was promoted to principal, and ultimately, to superintendent of the Dayton Public Schools.
While with Dayton public schools, Moreland led a handful of small school district superintendents in a lawsuit challenging the Commonwealth of Kentucky's funding formula for public schools. The Kentucky Supreme Court ruled in favor of Moreland's coalition, leading to the birth of landmark legislation in 1990, the Kentucky Education Reform Act, commonly known as KERA.
In 1996, Moreland was appointed to serve as interim president of Northern Kentucky University. During his stint at NKU, Moreland attracted an on-campus reservation center for Delta Air Lines staffed by students and laid the groundwork for construction of a $40-million natural sciences building. In 1997, Kentucky Gov. Paul Patton, who had successfully pushed legislation merging the state's community and college system, tapped Moreland to help oversee the transition of the schools into KCTCS. He served for one year as interim chancellor of the system.
After a year in the private sector as director of human resources for the Dayton, Ky.-based Radac Corporation, Moreland returned to education, this time as superintendent of the Covington Independent Public Schools – a district with 4,000 students, 800 faculty, and a $41-million annual budget. He served in that role for eight years.
Moreland holds a bachelor's degree from Eastern Kentucky University and two advanced degrees from Xavier University. His extensive list of awards include the Covington Independent Public Schools' "Person of The Year," induction into the Kentucky Civil Rights Hall of Fame, the NAACP Outstanding Support Award, the Ralph V. Haile, Jr. Outstanding Achievement Award from The Covington Business Council, the Northern Kentucky Chamber of Commerce Walter R. Dunlevy/Frontiersman Award, the Kentucky Superintendent of the Year Award, and the Eastern Kentucky University Distinguished Alumnus Award.
Click here to register for the Seeds of Hope gala.