So often, when we tell people about Mentoring Plus, it can be difficult to briefly describe just what it is that we do here. The truth is that our services are so broad and have such depth that summing it up into a few sentences can be a challenge. Yet, the impact that we're seeing on the lives of the teens and families we serve is immense, and we can hardly keep ourselves from spreading the good news.
That's why our #GivingTuesday Open House has become so important. Nothing that a volunteer or staff member can say will adequately capture the importance of our work to those who are served. Opening our doors to the public; allowing people to see, first-hand, what we do and how we do it has a way of bringing the program to life in a way that words alone cannot. And this year's open house was particularly successful at that.
Finding its theme from the Lao Tzu quote, "A journey of a thousand miles begins with a single step," guests had the opportunity to see Mentoring Plus through the eyes of the teens we serve. Starting by meeting a family who was relatively new to the Mentoring Plus, guests toured the building while meeting with more families and staff, each in a different stage of their journey through the program. What's it like during the first couple of weeks attending M+? How does the curriculum develop and change over time? What role does the life coach/mentor play? How does our organization go beyond the teen, to serve the families? What changes, external and internal, have taken place in the youth and the family as a result of their participation? All of these questions and more were answered during the tour.
One of the greatest differences between Mentoring Plus and other organizations is the long-term commitment we make to our kids. It's not unusual for a teenager to remain in the program for two or three years. Just think about how different your life was three years ago. Then try to remember the changes you experienced over the three years from ages 14 to 17. Kids go through massive changes during their teenage years, and these kids are particularly vulnerable to challenges and disadvantages during that time. So, getting the chance to hear from these young men and women as they share the stories of their own personal journeys through the program is often heart-breaking and inspiring. You could really see the journey of a thousand miles, and how each step along the way was significant.
As guests continued through the open house, they met with volunteers and staff who explained in greater detail how to contribute to the organization's success. This helped our visitors to get a deeper understanding of the broad range of our services, and to see how they might put their own skills to use for us. They were able to meet with Program Director, Robin Anderson, as well as our new Executive Director, Chris Saunders. Several board members were also in attendance.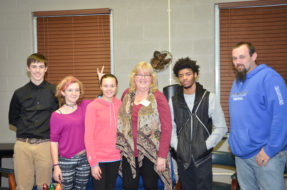 We also had two special guests, Ed Davis and Audrey Ann, who documented the entire event in photos. Be sure to Like us on Facebook to see all of the great moments they captured.
Again, Mentoring Plus wishes to thank everyone who was able to attend our Open House and express our deep gratitude to those who donated to our #GivingTuesday fundraiser. Thank you!
https://mentoringplus.org/wp-content/uploads/2017/12/ornaments-2.jpg
2832
4256
Mentoring Plus Staff
https://mentoringplus.org/wp-content/uploads/2020/12/MPlusLogo-White720x88-300x37.png
Mentoring Plus Staff
2017-12-19 18:44:47
2017-12-21 14:27:37
#GivingTuesday Open House A Big Success