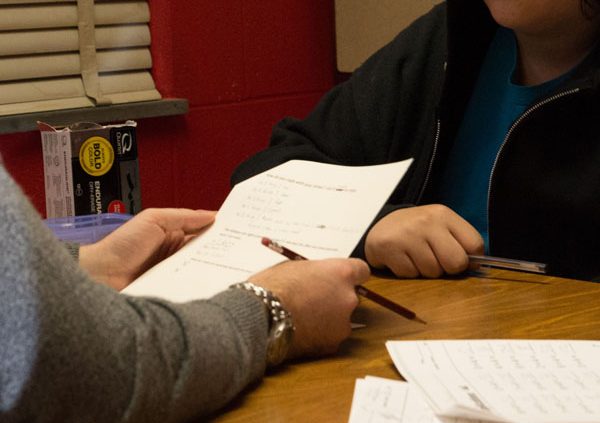 When Ben* started at Mentoring Plus at the age of 12, he desperately wanted a mentor. Life had been difficult – full of troubled relationships and trauma – so Ben naturally wished and hoped for "someone, anyone, to talk to." Like any new experience, he was "mellow" about it at first, but eventually became comfortable as part of the group. Four years later, he still attends the weekly Independent Living Program, with a priority on schoolwork and job search.
At 16 years old, Ben is thinking about the future. He goes to college-level classes at Gateway in the mornings and then takes a bus to his regular high school in the afternoons. He can laugh now about the "scariest" part of the whole experience (thinking he missed the acceptance phone call from the Gateway program) and is greatly looking forward to a graphic design class next semester. That class is the first step in his plan to become an artist for Japanese animation and graphic novel publishers. He also has hopes of studying abroad in Japan to gain experience in the industry.
When he's not busy at Gateway, he's still working hard at Mentoring Plus. He is trying to improve family relationships and find a job to pay for school. His favorite person at program is Kevin Kennedy, the executive director. Ben chose Kevin as a favorite without a moment's hesitation, saying that Kevin "has been with me through thick and thin – he's like a dad or a brother to me." That long-ago wish for "someone, anyone to talk to," has been fulfilled many times over, and it seems to show in Ben's sense of hope for his own future.

*names have been changed to protect privacy
https://mentoringplus.org/wp-content/uploads/2017/03/M-Kids_11-14-13-6789R.jpg
459
600
randerson
https://mentoringplus.org/wp-content/uploads/2020/12/MPlusLogo-White720x88-300x37.png
randerson
2015-06-05 16:43:10
2017-04-09 13:10:48
Voices: Teen Perspectives - Ben's Story